Thank You Phoenix
And a special thanks to The Franciscans at St Marys Bascilica who lodged and fed us for 3 days.
A day off to write an email to my email list, Fly my drone at 650 feet  today and video the skyline of downtown Phoenix. I was a little scared to go that high. I got some great video:)
I had some interaction with Roslyn today who has been a gracias driver for us and really helped out when I needed to go to the dentist and she made arrangements for her husband Mike to take us instead of her as we talked about. When she said her husband could pick us up and I was feeling like we were an inconvenience. I could feel an energy rising and I justified it was a hassle for Mike and we can catch an Uber. I can use my Uber app and get a ride over. Pride and management. Someone suggested I delete my Uber app, So I did.
I spoke to James about it and he saw immediately that I was managing the situation instead of living in Providence and trust. As he mentioned that I knew it was right and I texted Roslyn back and said yes thank you. We'll look for Mike in the morning. then Mike called and said it was no problem at all he would take pick us up and take us on his way to his VA meeting.
James and I went to Starbucks and had lunch on Lisa Natoli. (She sent a Starbucks credit by email) Thanks Babe. We've used it for breakfast once and coffee and water.
Coming back to the Fryor house at St. Mary's I talked to my daughter and grand son, then face timed Lisa, finished watching a movie on Netflix IN THE SHADOW OF THE MOON and then had left over dinner from the kitchen again. Watched another Netflix movie FRACTURED and went to bed.
Jan 19th – Sun.
Woke up early 5:00 a.m. as is my norm. Coffee and catch up on my daily diary.
This is our third show of Saint Francis today at the Unity of Phoenix James will get a little song in the two morning services at this big unity church and give his one-man musical at 1 PM and then someone who lives in Sedona, Molly that's coming over to watch the show will take us back to Sedona for another show on Tuesday.
The three bells or the 6 o'clock church bells  ring here at Saint Mary's Basilica every morning and there's three bells and then a pause and I was asking father Michael about the bells and he said that the three bells stand as a reminder for three prayers that he recites every morning and then the next three bells are three more prayers.
Woke James up at 6:39 went out to talk to the street workers because they had the street on the side of the Basilica blocked off. Found out they're having a full marathon and a half marathon here in Phoenix today so Mike can still pick us up in front of the building on 3rd st. Bowl of cereal before leaving at 7:30.
We had trouble getting to the church because all the roads are blocked off so it was pretty close to the sound check time but we made it on time no problem. This church is really big and modern lots of happy greeters very accommodating and actually made you feel special being with James anyway.
James did a song teaser song for for the musical and both of the morning services I've videoed a little bit in the first service.
We filmed a little talk for James next to the labyrinth before the musical and I was able to fly a drone over and get some good video between the services. Getting much better at flying the drone quickly and getting good shots.
All the books sold out most of the dolls we just have a few left and a woman named Molly Indura is from Sedona is taking us back to Sedona tonight.      Thank You Molly.
Thank You Unity Phoenix
On our way to Sedona. <3 Love Bill and James
Below from James:
St. Francis of Assisi goes to Broadway
"Living and acting as St. Francis has been one of the greatest gifts of my life," James Twyman said. "He has so much to teach us today, especially how to communicate with one another in loving, compassionate ways."
From February 20th – March 1st, James will share his one-man musical based on the life of St. Francis of Assisi off-Broadway at the Church in the Village. This is the only show EVER where the primary audience is homeless men and women. Anyone who buys a ticket will also serve soup and pass out new clothes. (Look to the bottom of this email to find out how you can help by sending hats, blankets, etc. to pass out in NY.) On the way to New York James and Bill Free are traveling penniless and performing in eighteen cities. To see if he's coming to a city near you CLICK HERE. And make sure you check out the clip above. James (or St. Francis) was interviewed on the ABC morning show in Phoenix. This is a special extended version edited by James himself. CLICK HERE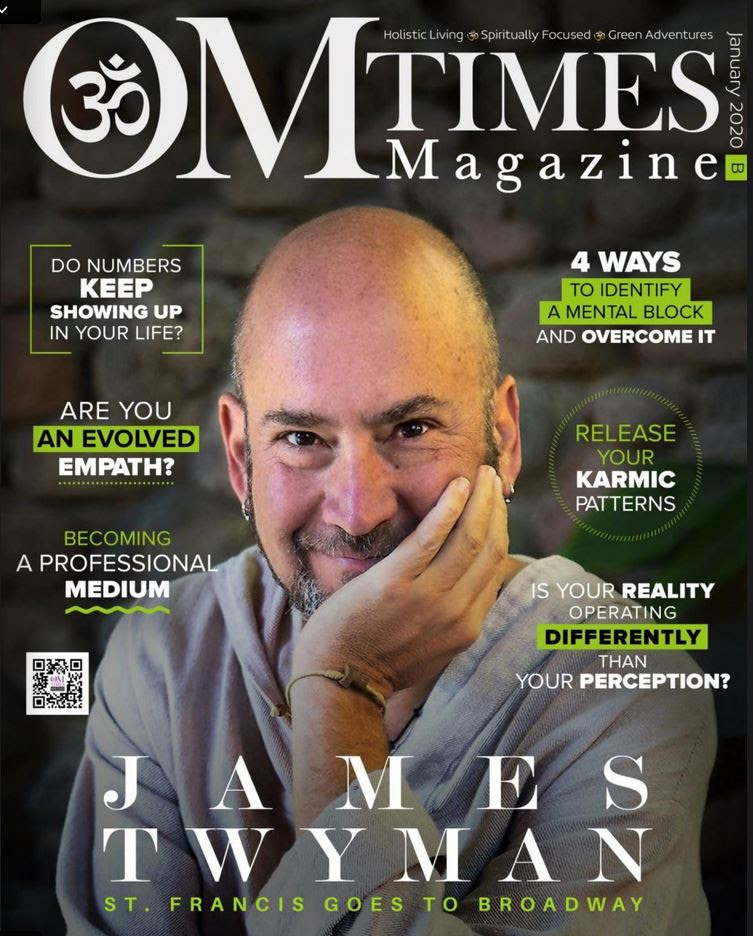 Check out this interview in OmTimes Magazine
James was honored by being put on the cover of one of the best spiritual magazines in the world – OmTimes. There's a great interview that covers the entire story of how the St. Francis musical started and why James is so excited about sharing it. You can see the entire edition by a CLICKING HERE.
Here's something really positive you can do right now…
James will be performing the musical for two weeks off-Broadway from February 20 to March 1. We will be inviting homeless men and women to all the New York shows and will be feeding them a meal before the show begins and passing out free socks, blankets and winter gear. We hope you'll support this endeavor by using one of the links below to order any of these items from Amazon, then have them shipped to our friend Vicki Thomas, 140 Adams St., Quincy, MA 02169.
Here are links for a few of the items we need:
Men's socks, Women's socks, Stocking hats, Blankets, and gloves.